Our Process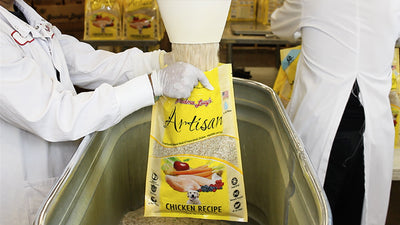 The freeze-dried blend is gravity-fed from our custom tumblers and sealed in moisture and oxygen proof packaging to ensure freshness until opened. When water is replaced, the food retains its original fresh flavor, aroma, texture and appearance. Our blends are then case packed and stored until testing can be done.
---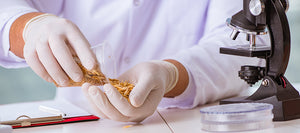 We test our products prior to shipping as required for our inspections. Test results from our suppliers are also received prior to the raw ingredients entering our facility. This double testing process allows us to monitor and check the quality and safety each step of the way, from farm to final packaging.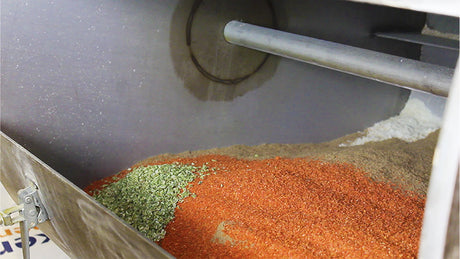 Careful attention is given to our mixing and blending process. All ingredients are hand-sorted, measured, and inspected before being placed in our custom tumblers. These tumblers allow the whole food ingredients to mix evenly without damage. Larger pieces of freeze-dried meat, poultry and fish are finely ground and added to each blend to ensure a complete and balanced diet in every bite.
PROPRIETY FLAKING PROCESS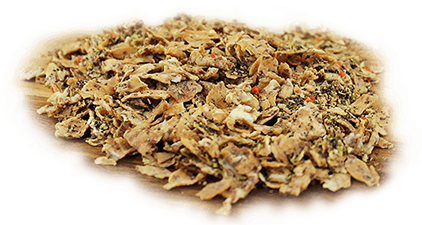 Our legumes, potatoes, and hemp undergo a propriety process to create a highly nutritious flake. This distinct process protects the nutritious integrity of these whole foods while still allowing for a quick rehydration time. Once water is added back to the food, the result is a soft flake with texture and nutrition pets love.
HOME PREPARED DRIED FOODS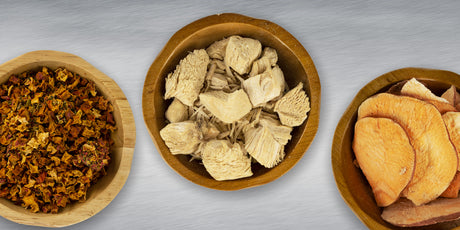 We take great pride in our treats since they were the first product we released in 1999. Our freeze-dried treats are hand cut to just the right size to ensure you have the perfect breakable pieces. Our other treats are handled with the utmost care so that you know you are giving your pet a safe, healthy treat. Your pet will just know that treat time is the best time of their day!
---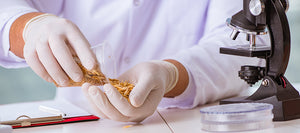 We test our products prior to shipping as required for our inspections. Test results from our suppliers are also received prior to the raw ingredients entering our facility. This double testing process allows us to monitor and check the quality and safety each step of the way, from farm to final packaging.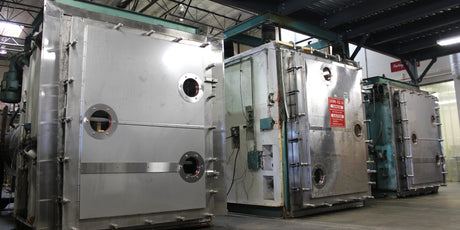 Our gentle freeze-drying process removes 92% of the water contained in our ingredients, leaving a food that is lightweight, compact, shelf-stable and preservative-free. Freeze-drying, as compared to other drying processes such as dehydrating or air drying, is better at retaining the characteristics of the raw food. It is well known that the process retains more flavor components and results in reconstituted textures that most closely approximate the original meats and vegetables.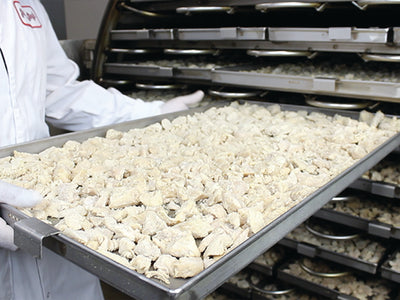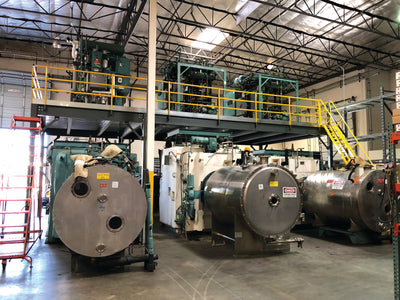 THE ADVANTAGES OF FREEZE-DRYING
SHELF STABLE
Since the water and oxygen have been removed from freeze-dried food it does not require refrigeration when stored and is safe to store at room temperature for long periods of time
LIGHTWEIGHT
Once water is removed the weight of the freeze-dried food can be reduced by as much as 80%
FAST REHYDRATION TIME
Freeze-dried foods are moisture sensitive and rehydrate in minutes
TASTE, TEXTURE & AROMA
Freeze-drying uses low levels of heat so most food closely retains the taste, texture and aroma of it's fresh counterpart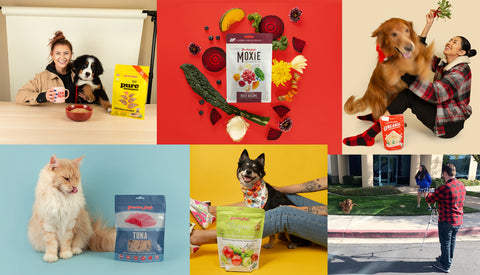 So much fun happens up here! Our sales team is always there to support our retail partners to help bring Grandma Lucy's to as many pets as possible. When not playing with puppies, our Marketing Team is creating fun content to share with you all on social media. They also are a huge help in managing our charity program, Project Pet RAK, that allows us to bring healthy meals to those special pets around the country.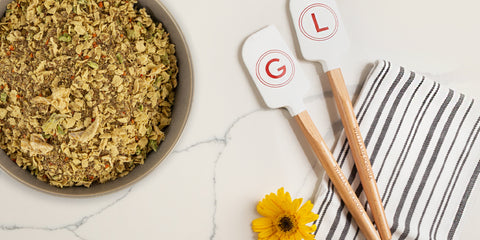 Grandma Lucy's key to growth has never been all about big marketing and promotions. We believe that investing in our products, ingredients and manufacturing are the most important aspects of our company. Since we started back in 1999, we have always listened to our customer's wants and needs when designing our new products. We are constantly making "wish lists" with the ideas of our supporters. We take those lists and do our best to make them into a reality. It is these special cases that inspire us to research how we can help troubled pets live a happier and healthier life. Grandma Lucy's wants to make sure we are offering the very best so that pet parents can continue to trust that we are bringing them a safe and healthy product. We work with our veterinary and nutrition partners to create cutting edge products that pets love!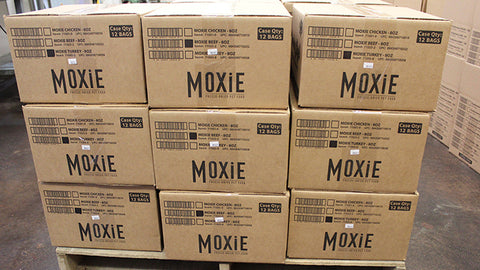 All incoming materials are carefully inspected upon arrival to ensure their quality prior to going into production. These ingredients are transferred to their holding areas to await their turn to be used in one of our delicious recipes.

We use the robust network of the most well-respected freight trucking companies in the U.S. 
---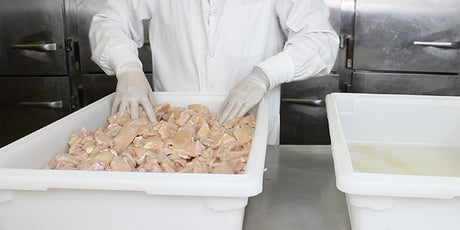 RAW INGREDIENTS
We remain committed to using the highest quality ingredients from trusted suppliers and farms. Grandma Lucy's requires all of our suppliers to sign a Vendor Promise stating that the ingredients are processed in a human-grade facility, the country of origin, are free of chemicals and preservatives, each batch is tested for salmonella, lead, e-coli, mercury, arsenic, coliform, and melamine in accordance with human food standards.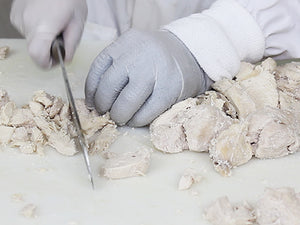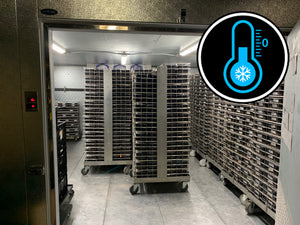 MINIMALLY PROCESSED
Skilled staff inspect all incoming and outgoing products for quality assurance. Our kitchen then carefully cuts and prepares the meat, fish, poultry, fruits and vegetables for each formula. The foundation of our outstanding food rests in the whole food ingredients. We do not use any meals or by-products, only ingredients with names you can pronounce. This ensures that every bite is whole food nutrition
FREEZING
Meats, fish, poultry, etc. are placed on metal trays and loaded into our walk-in freezers where they will freeze for 24 hours. After 24 hours the ingredients are now ready to be freeze-dried. Our gentle freeze-drying process is achieved at an extremely low vacuum pressure and temperature.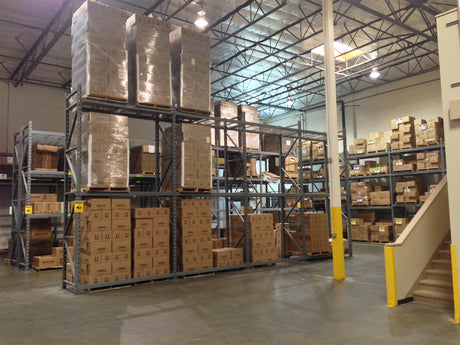 All of our products are made in small batches so food and treats are basically made to order. This means you can be assured you are receiving the freshest food possible. We are thrilled to be able to sell our products all over the world which is a long way from selling our treats at community events in Orange County, CA back in 1999.